In the realm of skin care, there are a number of developments that can push things beyond what was originally believed. For example, who would've thought that botox, a poisonous substance, could help reduce wrinkles? That's why some experts have learned to expect very strange things coming from the field, with developments having a tendency to come from the unexpected places. Collagen supplements are among these new sources of skin care treatment.
Last updated on October 3, 2023 3:09 am
What is it?
Collagen is nothing unusual in terms of scientific purpose. The name refers to a group of proteins that occur naturally in animals, particularly in the flesh and connective tissue of mammalian species like humans. According to findings, it is actually a major component of connective tissues and is the most prominent protein in mammals, consisting of up to 35% of the protein content of the body. Collagen supplements are primarily used in skin care applications as a form of artificial skin. Burn victims often find that damaged areas do not recover due to the nature of the injury, and skin grafts are not always a viable option. Collagen is a common alternative.
Commercial applications
Collagen supplements as a skin care treatment, particularly in the arena of anti-aging, are fairly recent and still vastly unproven. The theory is that since connective tissues are made of it, the use of collagen supplements can help repair skin that has not been repaired, since the body devotes fewer resources to tissue maintenance as it ages. Most collagen is derived from bovine sources and is believed to aid in the reconstruction of skin. It has also been marketed as a supplement that improves the endurance and movement of joints. Make-up has also started to include collagen as an ingredient, though tests show that it cannot actually be absorbed through the skin.
In terms of skin care applications, collagen supplements are unlikely to actually be of much use. It does provide a wide variety of benefits, but for the most part, any cosmetic uses it might have cannot be obtained through supplementation. The fact that it cannot be absorbed by the skin limits its uses in products such as moisturizers and facial creams, and the rest of the body is more likely to benefit if it is ingested as a pill or capsule. For the time being, collagen does have uses, but these are primarily for skin repair and have little in the way of commercial applications.
LOOKING FOR THE BEST ANTI-AGING PRODUCTS
With so many anti-aging products available in the market, how does one properly choose the best cream or supplement for the skin? Before heading to the store, you first have to understand your skin type. The product you choose will depend on your skin color and condition. Most lotions and creams classify skin as either dry, normal, or the combination of both. If you notice that your skin is allergic to certain products, it is best to consult a dermatologist before using any skin care item. The doctor will know what is specifically wrong with your skin and will recommend daily practices for long-term care. Once you have fully understood your skin, you can begin looking around for anti-aging products.
Caring for your skin type
The more sensitive skin types work best with anti-aging products without any fragrance, dyes, or Para-amino-benzoic acids (PABA). Most products place the words "sensitive skin" in the front of their labels.
Acne-prone skin still requires the care of anti-aging ingredients. If you regularly experience breakouts, look out for anti-aging skin care products specializing in oily or combination skin types. The acne-treating ingredients will effectively prevent breakouts and control the oil produced by your skin.
Others prefer products that exfoliate or protect their skin from sun exposure. Protecting your skin from the sun is particularly important since too much UV ray exposure can lead to cancer. Your skin can also benefit from creams or soaps that address uneven coloring and age spots.
How anti-aging products work
Individuals in their 30s or 40s should use products containing exfoliating properties. Exfoliation removes dirt and dead cells that have accumulated on your skin. Vitamins A, E, and C are particularly helpful in delaying signs of aging. Vitamins A and E are able to moisturize the skin while Vitamin C protects you from UV ray damage. Retinol is the Vitamin A derivative found in most anti-aging skin care products. Another helpful ingredient is collagen, a fibrous protein that strengthens the skin. Elastin complements collagen by making the skin more flexible and firm at the same time. Collagen and elastin are useful for women with sagging skin. Products having these ingredients are usually applied around the neck and the face.
Other useful anti-aging ingredients include cynergy Tk and CoQ10 (or Coenzyme Q10). CoQ10 is an antioxidant included in the body's cell. The coenzyme protects the skin from aging and damage caused by free radicals. Signs of aging begin when the CoQ10 quantity lessens as we grow older. Nano-Lipobelle H-EQ10 is another variation of CoQ10. It protects the deeper layers of the skin and attacks more free radicals that have penetrated through skin cells, thus, effectively preventing wrinkles from forming.
Collagen production is also increased through Cynergy TK, which promotes the reproduction of elastin. The combined effects of collagen and elastin make your skin smoother and firmer. Studies prove that these ingredients help the skin increase its elasticity by 42 percent. It also prevents the formation of wrinkles, thereby preventing more signs of aging. Cynergy TK is also helpful to individuals with dry skin. Research has shown that it can increase moisture retention by 14 percent.
If your skin requires moisturizing ingredients and anti-aging effects, there are many dual or triple purpose products sold in the market. Among those worth looking for are mini-dermabrasion kits, which are equally effective as dermatological procedures. These kits are able to tighten the pores, reduce aging lines, and brighten the skin's color.
Anti-aging product reviews are available online for your reference. These reviews discuss specific products that treat wrinkles, fine lines, dryness, acne, and the like.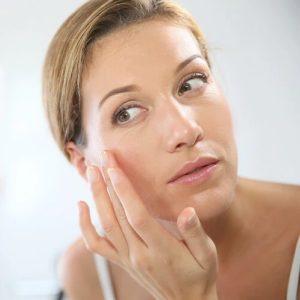 Bad news: acne does not only appear during adolescence; it...
Read More
Products recommended in the post contain affiliate links. We may receive a commission when you buy something through our posts.
Why Trust Us
You will find what you are looking for at Black Friday Weeks. From classic to luxury brands, you'll find both. We will help you to select appliances that fit your needs, budget and lifestyle. Whether you want to stop by to learn more — or plan to make a major purchase — we'll treat you like family and assist you every step of the way. Shop with us today to receive friendly and experienced help along the way.